Constantly painting your nails and removing polish can really take a toll on your cuticles. There are times when I polish my nails with a beautiful color but my cuticles look so jacked up. Not a good look at all. In my quest for a healthier nails  three oils have stood out to me: 
1. Julep Essential Cuticle Oil:
Kimberlee gifted me a Julep Maven box  and their Essential Cuticle Oil was in the package along with two beautiful nail colors. I like this product because it smells divine. I can tell from one whiff there might be lavender or maybe tea tree oil in the blend . Here is the official description:
"All-natural blend of essential oils and Vitamin E hydrates and strengthens nails and cuticles. Extends the life of your manicure while leaving a glossy sheen. Use daily to soften rough cuticles and strengthen nails. The convenient roller-ball application allows you to take your Julep Essential Cuticle Oil everywhere you go."
I do like that the roller ball allows for quick application while also serving as the massager of the oil into your cuticles, which are instantly softened after using this. 
2. CND Solar Oil: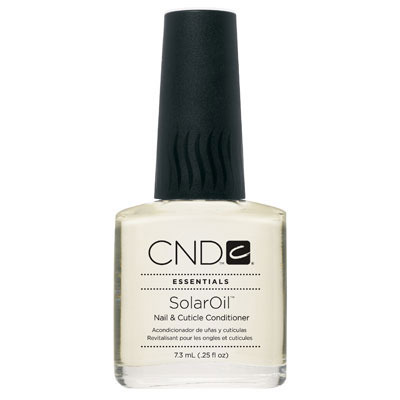 Last year at The Beauty Social, I got a gel manicure and a gift bag from CND. In the gift bag was CND's SolarOil which was exciting because I had heard about it being a staple for cuticle care. I like the consistency of the oil and the sample bottle I received had a brush applicator to apply it. I don't particularly  care for the almond scent of the product but I just think that's a personal preference. Here's a description of the product:
"SolarOil's synergistic blend of naturally light oils and vitamin E offer intense therapy for dry, damaged cuticles. Jojoba oil carries the vitamin E deeply into the skin, reducing visible signs of aging and keeping hands soft and supple. Repeated use actually drives the oils deeper in the natural nail, for results that only get better with time. Nails hold color and enhancements better, feel stronger and more flexible. SolarOil features a super-penetrating formula that works wonders on nails and cuticles."
3. Plain old Jojoba Oil:
 It's funny that I'm recommending jojoba oil since in CND's description above it mentions jojoba oil as an ingredient. It's a very light-weight natural oil that's similar to the sebum skin, so it is absorbed easily. I always have a bottle of jojoba oil around , I use it one my hair and my body and also my cuticles if this is closest to me when I feel like grooming my nails. 
How's your journey to healthier nails? I'd love to know about other treatments and moisturizers for the cuticles and hands. Shoot me a comment below!
Tags: CND, Cuticle Oils, Jojoba oil, Julep, Nails, Oils, Solar Oil